Hi All !
Dibawah ini merupakan buku-buku yang benar-benar aku rekomendasikan untuk dibaca. Listnya tentu saja akan bertambah banyak seiring waktu berjalan dan seringnya aku membaca. Yah doakan saja semoga mood baca ini nggak menghilang dengan cepat ya.
Salam, Nidya Cahya.
Historical Romance Category
The Viscount Who Loved Me (Bridgertons, #2) by Julia Quinn
1814 promises to be another eventful season, but not, this author believes, for Anthony Bridgerton, London's most elusive bachelor, who has shown no indication that he plans to marry.
And in truth, why should he? When it comes to playing the consummate rake, nobody does it better…
–Lady Whistledown's Society Papers, April 1814
But this time, the gossip columnists have it wrong. Anthony Bridgerton hasn't just decided to marry–he's even chosen a wife! The only obstacle is his intended's older sister, Kate Sheffield–the most meddlesome woman ever to grace a London ballroom. The spirited schemer is driving Anthony mad with her determination to stop the betrothal, but when he closes his eyes at night, Kate is the woman haunting his increasingly erotic dreams…
Contrary to popular belief, Kate is quite sure that reformed rakes do notmake the best husbands–and Anthony Bridgerton is the most wicked rogue of them all. Kate is determined to protect her sister–but she fears her own heart is vulnerable. And when Anthony's lips touch hers, she's suddenly afraid she might not be able to resist the reprehensible rake herself…
The Secret Diaries of Miss Miranda Cheever (Bevelstoke, #1) by Julia Quinn
2 March 1810 . . . Today, I fell in love.
At the age of ten, Miranda Cheever showed no signs of Great Beauty. And even at ten, Miranda learned to accept the expectations society held for her—until the afternoon when Nigel Bevelstoke, the handsome and dashing Viscount Turner, solemnly kissed her hand and promised her that one day she would grow into herself, that one day she would be as beautiful as she already was smart. And even at ten, Miranda knew she would love him forever.
But the years that followed were as cruel to Turner as they were kind to Miranda. She is as intriguing as the viscount boldly predicted on that memorable day—while he is a lonely, bitter man, crushed by a devastating loss. But Miranda has never forgotten the truth she set down on paper all those years earlier—and she will not allow the love that is her destiny to slip lightly through her fingers . . .
It Happened One Autumn (Wallflowers, #2) by Lisa Kleypas
Four young ladies enter London society with one necessary goal: they must use their feminine wit and wiles to find a husband. So they band together, and a daring husband-hunting scheme is born.
It happened at the ball…
Where beautiful but bold Lillian Bowman quickly learned that her independent American ways weren't entirely "the thing." And the most disapproving of all was insufferable, snobbish, and impossible Marcus, Lord Westcliff, London's most eligible aristocrat.
It happened in the garden…
When Marcus shockingly—and dangerously—swept her into his arms. Lillian was overcome with a consuming passion for a man she didn't even like. Time stood still; it was as if no one else existed…thank goodness they weren't caught very nearly in the act!
It happened one autumn…
Marcus was a man in charge of his own emotions, a bedrock of stability. But with Lillian, every touch was exquisite torture, every kiss an enticement for more. Yet how could he consider taking a woman so blatantly unsuitable…as his bride?
Devil in Winter (Wallflowers, #3) by Lisa Kleypas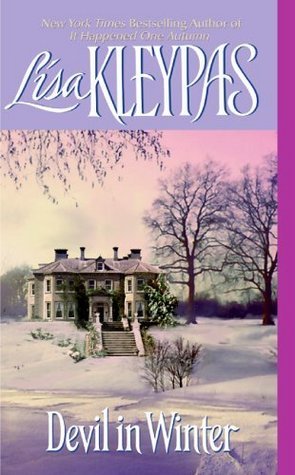 Four young ladies enter London society and band together to each find a husband. Has the third "Wallflower" now met her match?
A Devil's Bargain
Easily the shyest Wallflower, Evangeline Jenner stands to become the wealthiest, once her inheritance comes due. Because she must first escape the clutches of her unscrupulous relatives, Evie has approached the rake Viscount St. Vincent with a most outrageous proposition:marriage!
Sebastian's reputation is so dangerous that thirty seconds alone with him will ruin any maiden's good name. Still, this bewitching chit appeared,unchaperoned, on his doorstep to offer her hand. Certainly an aristocrat with a fine eye for beauty could do far worse.
But Evie's proposal comes with a condition: no lovemaking after their wedding night. She will never become just another of the dashing libertine's callously discarded broken hearts — which means Sebastian will simply have to work harder at his seductions … or perhaps surrender his own heart for the very first time in the name of true love.
Contemporary Romance Category
Empathy

(Empathy, #1)

 by Kerr Dukey
WARNING: This book will mess with your mind. It is a very dark, sexy, twisted romance novel. 18+ only.
Blake:
I am a brother
I am a police detective
I am a contract killer
I don't want to love
I don't want to feel
I don't want … EMPATHY.
They say some people are born with decreased activity in the front central lobe causing them a deficiency in empathy. Maybe that's true about me but whether I was born this way or created in a moment of evil, empathy was something I didn't possess until her green eyes met mine in the mirror and I couldn't take her life.
I didn't want to feel, didn't want this woman in my life complicating how I lived but she was there at every turn. Sent to haunt me for my sins. Her light so bright she provoked a shadow from everyone she touched. When a job turns bad quickly altering my life forever I'm forced to feel. When nothing is making sense I'm forced to face truths I never would recover from. When life drowns you in its cruelty you don't know which way the current will drag you or who you'll become once you re-surface.
Melody:
I was a daughter
I was a student
I was a victim
Did I have his love?
Did I make him feel?
Did I have his empathy?
When the actions of a soulless killer forces sorrow into my veins I never dreamed the man healing my wounds would be the one to leave the worst scar. His love would scar my soul. Scars are permanent; I will never feel the relief from them. Will I learn to live with them, remember why I have them and learn never to let him close enough to inflict more? Will I eventually cover them… like tattoos coating them with new memories, new love and new starts? I didn't know these answers because the pain was too suffocating, the only thing I knew was they will always be under the surface lingering. He had scars too, from his sins. There is nothing that can cover them, they were too deep, too ugly, too dark and they marked us both forever.
Bully

(Fall Away, #1) by Penelope Douglas
My name is Tate. He doesn't call me that, though. He would never refer to me so informally, if he referred to me at all. No, he'll barely even speak to me.
But he still won't leave me alone.
We were best friends once. Then he turned on me and made it his mission to ruin my life. I've been humiliated, shut out, and gossiped about all through high school. His pranks and rumors got more sadistic as time wore on, and I made myself sick trying to stay out of his way. I even went to France for a year, just to avoid him.
But I'm done hiding from him now, and there's no way in hell I'll allow him to ruin my senior year. He might not have changed, but I have. It's time to fight back.
I'm not going to let him bully me anymore.
Rival

(Fall Away, #2) by Penelope Douglas
Madoc and Fallon. Two estranged teenagers playing games that push the boundaries between love and war…
She's back.
For the two years she's been away at boarding school, there was no word from her. Back when we lived in the same house, she used to cut me down during the day and then leave her door open for me at night.
I was stupid then, but now I'm ready to beat her at her own game…
I'm back.
Two years and I can tell he still wants me, even if he acts like he's better than me.
But I won't be scared away. Or pushed down. I'll call his bluff and fight back. That's what he wants, right? As long as I keep my guard up, he'll never know how much he affects me….
Tangled

(Tangled, #1) by Emma Chase
Drew Evans is a winner. Handsome and arrogant, he makes multimillion dollar business deals and seduces New York's most beautiful women with just a smile. He has loyal friends and an indulgent family. So why has he been shuttered in his apartment for seven days, miserable and depressed?
He'll tell you he has the flu.
But we all know that's not really true.
Katherine Brooks is brilliant, beautiful and ambitious. She refuses to let anything – or anyone – derail her path to success. When Kate is hired as the new associate at Drew's father's investment banking firm, every aspect of the dashing playboy's life is thrown into a tailspin. The professional competition she brings is unnerving, his attraction to her is distracting, his failure to entice her into his bed is exasperating.
Then, just when Drew is on the cusp of having everything he wants, his overblown confidence threatens to ruin it all. Will he be able untangle his feelings of lust and tenderness, frustration and fulfillment? Will he rise to the most important challenge of his life?
Can Drew Evans win at love?
Tangled is not your mother's romance novel. It is an outrageous, passionate, witty narrative about a man who knows a lot about women…just not as much as he thinks he knows. As he tells his story, Drew learns the one thing he never wanted in life, is the only thing he can't live without.